call
us
+91 (0) 9438 443439
Bridal Mehndi
What is Mehndi Ceremony?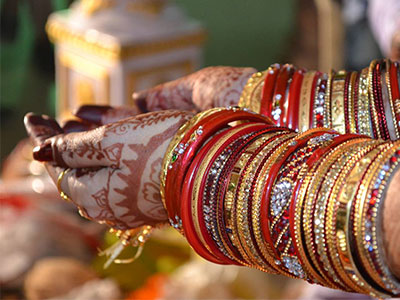 According to Hindu tradition, Mehndi Ceremony is mainly held at the bride's house or at a banquet hall on the eve of the marriage ceremony or few days before the marriage. Generally the bride, groom and close family members attend the event together and on the occasion a professional mehndi artist applies mehndi to the bride's hands and feet. The designs are very intricate. Often hidden within the mehndi pattern the name or initials of the groom are applied. The event generally has a celebratory festival feel to it with the women dancing and singing traditional songs and the girls wearing vivid colors such as hot pink and yellow, often if the bride to be wishes to tease her future groom she will make him wear purple. The groom usually wears jutti instead of western footwear.
Moroccan Mehndi Designs
Moroccan henna designs are characterized by geometric forms and a lot of straight lines. But in general, when you see something that's very geometric, that tends to be a Moroccan design.
For further information or to book Mehndi Artist call us on +91 (0) 9438 443439.